Winter Weather
During an average winter, Charlotte accumulates about four inches of snowfall. However, precipitation types and amounts can very widely in the surrounding areas. That is why it is important to be NinerReady!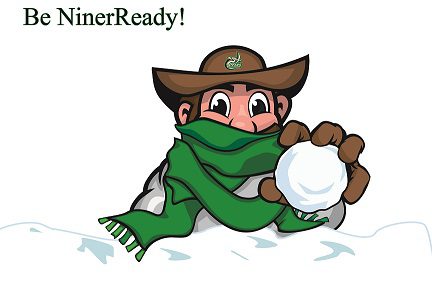 Notifications
Operating condition change
If there is winter weather event that impacts campus operations, a NinerAlert will be issued in the following ways:
Email – A message will be delivered to your UNC Charlotte account.
Text – If you have a cell phone number in Banner, a text will be sent to you.
Website – A banner message will appear at charlotte.edu.
Weather hotline – The latest information will be available by calling 704-687-1900.
If classes are canceled, you may also find information on local media stations.
Please make sure to familiarize yourself with the different operating conditions that could result from winter weather and what each means.
Information-only message — no operating condition change
Even when there is no operating condition change, there may be information the University wishes to share with you about a winter weather event. In these situations, a NinerNotice will be issued in the following way:
Email – A NinerNotice will be sent to your UNC Charlotte account.