NinerReady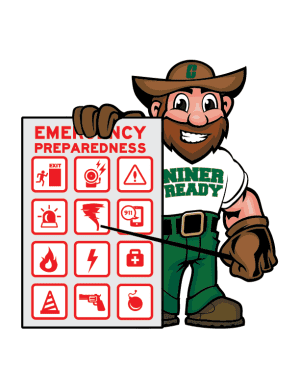 NinerReady Overview
At UNC Charlotte we believe emergency preparedness starts at the individual level. This includes being prepared for any emergency situation before it happens. Being prepared is good practice for any emergency you may face whether at school, work or a large event. In order to help students, faculty, staff, and visitors be prepared for any type of emergency, the UNC Charlotte Office of Emergency Management created the NinerReady program. Being NinerReady is more than just a program, it's a lifestyle. What does being NinerReady mean? It's simple, understand how/where to get emergency information, ensure you're connected to receive emergency alerts via multiple methods, and finally, understand the action you should take for different types of emergencies. That's it! Follow those steps and you are on your way to becoming NinerReady.
Get Started!
Here are 5 simple steps to help you become NinerReady:
Program the Campus Police telephone number into your cell phone.

Emergency – 704-687-2200
Non-emergency – 704-687-8300
NinerParatransit – 704-687-5636 (if necessary)

​Download and use Live Safe, the University Safety mobile app, from Apple App Store or Google Play.

Click here to learn more about Livesafe.

​Update your emergency contact information through Banner Self Service.
Create a Preparedness Pack.
​​Would you Like to Know More? Become NinerReady Certified!
You are well on your way to becoming NinerReady certified! Now that you've completed the above 5 steps to becoming NinerReady, review and complete the list of 4 additional items to receive your NinerReady Certificate of Excellence.
Want to Go Even Further? Become a NinerReady Pro!
In addition to completing the NinerReady certification requirements, you can take additional steps to become a NinerReady Pro! Just complete the NinerReady Pro certification checklist and receive the coveted Office of Emergency Management Challenge Coin.
NinerReady Pro Checklist:
Complete all tasks assigned to the NinerReady Certification level
​Complete ALICE Training
​Locate and list the AEDs in your building
Complete Stop the Bleed training or present a current certificate
Complete CPR training or present a current certification
Verification Process
Complete the following steps to receive your certification:
Email (emergency@charlotte.edu) screenshots or pictures of:

The programmed Campus Police telephone number in your phone.
The downloaded Live Safe Mobile App.
The updated emergency contact information in Banner Self-Service.
Your Twitter and Facebook Connection.
Your preparedness Pack.
Your Personal Emergency Plan.
Once your information is verified, we will send you the NinerReady certificate and/or challenge coin.
Stay tuned to learn more about NinerReady preparation. In the meantime, you can prepare for the program by answering these questions and watching the safety videos on each page.
1. Do you know where to seek shelter during a tornado, thunderstorm or flood warning?
2. Do you have an emergency kit prepared for an extended power outage or evacuation?
3. What does Run, Hide, Fight mean?
These are all important questions to consider during blue-sky, sunny days so you know that to do when danger is imminent.