Notifications
The Office of Emergency Management (OEM), alongside Police and Public Safety, use a variety of tools to disseminate information to the campus community during a potential threat or current situation. Upon acknowledgement of an applicable threat to campus, OEM may issue either a NinerNotice or a NinerAlert.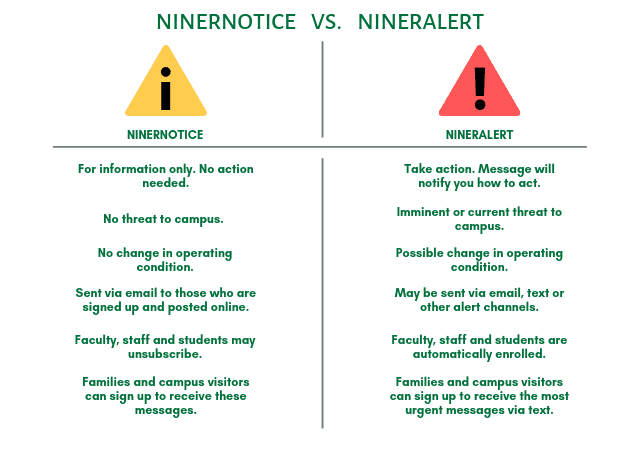 NinerNotices are messages sent to the campus community to provide information about incidents that do not pose a threat to the University community or its operations, but may be helpful for interested campus members to know about. These messages are sent via email.
NinerAlerts are messages sent to the campus community when there is a threat to campus safety or operations. NinerAlerts are sent using a variety of methods, which are determined based on the nature of the threat. NinerAlerts are sent via University email, text message, digital screen take-over, the LiveSafe App, social media and/or alert sirens.
Additionally, campus visitors and families may opt-in to receive text notifications of the most urgent threats.
For more information, visit each page and review the frequently asked questions.